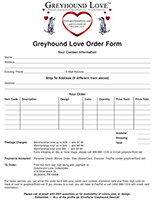 Online Orders
Use the shopping cart feature on this website to easily place your order online! Click the "add to cart" button next to any item to add it to your cart. Click the "shopping cart" link to view or edit your cart. Click "checkout" when you are ready to submit your order.
Phone Orders
Call (484) 880-1318 to place your order over the phone. Visa, MasterCard, Discover and American Express are accepted. If we are unavailable, please leave your name and number and we will return your call.
Mail Orders
Please use our printable order form and mail with your payment. Personal checks, money orders and cashiers checks can be sent to:
Greyhound Love
419 Silver Brook Drive
Birdsboro, PA 19508
PayPal Orders
Orders can be placed through PayPal to greylove@ptd.net. PayPal is an independently owned and operated online ordering system. For more information, visit www.paypal.com.