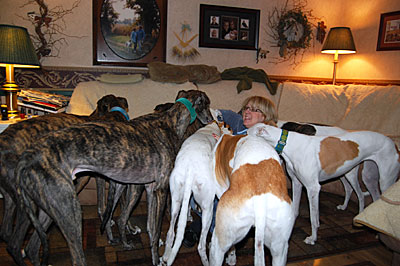 Polly Hornberger is the heart and soul of Greyhound Love®. Here is here story:
"I have had Dalmatians since 1985, showing in breed and obedience. My Last Dalmatian, Douglas, passed to the rainbow bridge in March of 2000. In the Fall of 1999, Douglass was showing signs of aging and his health problems prevented us from using him for the Therapy Dogs Inc. program, which is based in Wyoming. I am a tester/observer for the program and needed to look for another canine partner. I'm also not getting any younger and decided I needed a calmer breed as a partner. This is when Kayla entered my life. Kayla is — you guessed it — a rescued Greyhound. My husband Gary and I were both bitten by the "Greyhound Love Bug". Our lives have never been the same. It is amazing how, with all these Greys have gone through, they can still trust and love us. They wormed their way into our hearts in record time. We wanted to help with Greyhound rescue and attempted to foster greyhounds. Fostering is taking a Greyhound into your home fresh from the track to teach him/her the way to live outside the kennel and prepare him/her for a new family. The only problem was, we FLUNKED! We couldn't part with the dogs after they came into our home. So I began to look for other ways to spread the word of the Greyhound and help with rescue. I give talks at schools on pet therapy and I incorporated Greyhound rescue information into it. My past two registered Therapy Dogs were Benny and Toby, both wonderful Greyhound ambassadors.
I have a successful business that I truly love, teaching private Piano, Organ and Keyboard. In early 1999 (before the "Greyhound Bug") I decided to take up a hobby and try art. I signed up for an art class. Never did I expect to start another business based on my art! But when the "Greyhound Bug" bit, I realized selling my work to help rescue groups was a perfect way to give back to the Greys (especially since Fostering is a NO-NO!). It all came together when a six year old student of mine, Michaela, gathered up her three Greys and pulled them together calling out "Greyhound Love"! I knew that was the name of my new business. Greyhound Love® — what a perfect name for what I felt for the Greys and my new adventure. One of my designs has Mackie with three Greys gathered together showing this special moment.
In 2008 we finished a series of five awesome children's books published under Greyhound Love Publications that teach values and lessons to our youngsters. What better way to spread the word about these magnificent animals than through our children. In 2012 we purchased Keith's Signs, a magnet and decal business, which gives my husband something to do in his retirement.
It is now 2016 and Greyhound Love® is 16 years old and still thriving! It is with a full heart that I think of all the rescued greyhounds Greyhound Love® has helped. My married daughter's old bedroom is filled with Greyhound Love® merchandise, we have gotten a new computer, and updating my website to make it mobile friendly.
We are now entering the year 2022. We have survived a pandemic, that lasted almost two years. I want to "THANK" all Greyhound Love© customers that purchased online and participated with raffles I participated in to help rescue groups survive the pandemic. Hugs to all your Hounds!
I would like to thank all the people who inspired and helped me make Greyhound Love® a reality:
Beth Good of Good Impressions, Stevens PA
Teresa Levandoski and Tammy Braunsberg for helping me with my idea of the Greyhound Love® children's book series
Bonnie Bacon, Jen Higginbottom, Kim Gerhart, and Anna Amole, my partners that work for me cheap (free! or should I say for the love of these awesome creatures)
A very special "Thank You" to all the volunteers in all the rescue groups who work so hard at this cause — you "ALL" will have a special place in Heaven!
—Polly